Analog input device PAV - 3
ATS devices in networks 0.4 - 150 kV
Busbar coupler protection devices
Cabinets of relay protection and automation of series
Central annunciator units
Device discrete input/output DDIO
Device is intended for the reflection of the state of interconnect equipment
Device of arc protection of the PDZ
Devices for regulating the voltage of the transformer under load
Devices for the protection of the section
Discrete input devices DDI
Discrete output devices DDO
Disposing device DSH
Electric motor protection devices
Fiber Optic DVO Sensor
Hardware and software system promHMI
Input and output protection devices based on OCP
Input and output protection devices with directional earth fault protection
Input protection devices, busbar coupleres, outgoing lines and standby transformer protection
Input, output and standby protection devices for transformers
Line protection devices
Motor differencial protection devices of transformer
Power supply IP-02-MRZS
Voltage monitoring devices and voltage protection kit
MРЗС-05Д AИAР.466452.002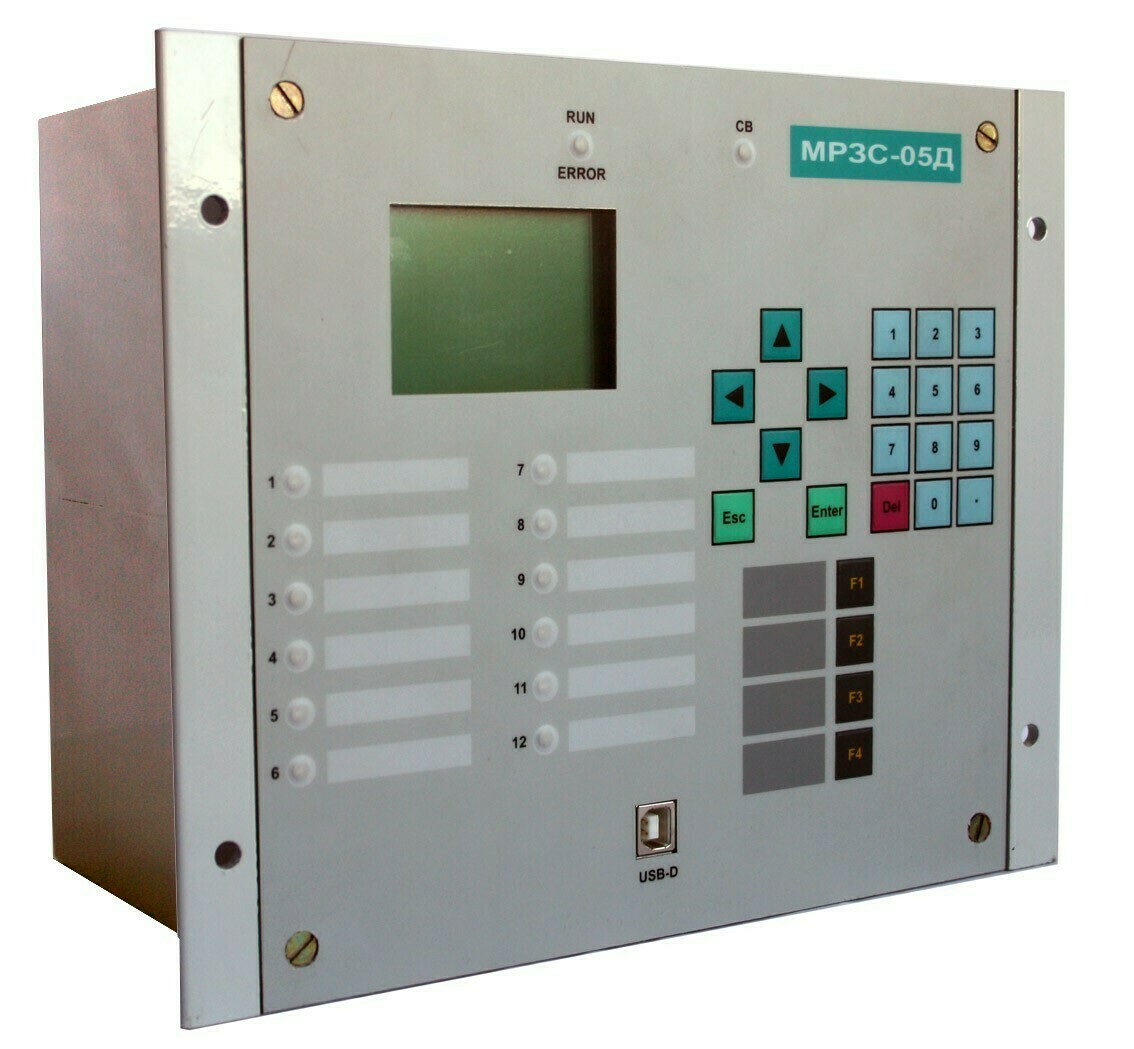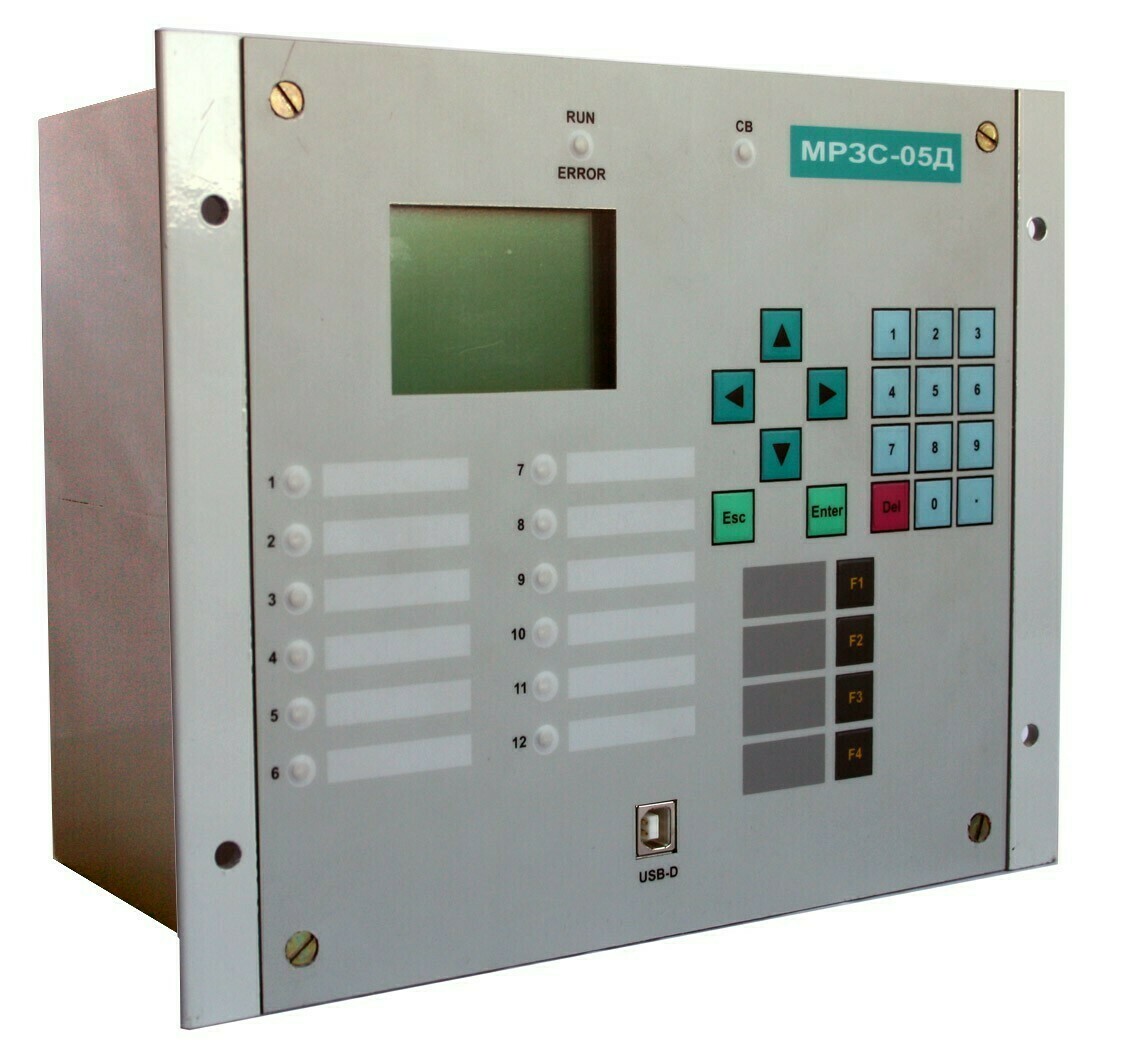 It is used as protection, automatics, control and monitoring of technological processes of asynchronous and synchronous electric motors 6/10 kV, having current transformers both on the supply side and the neutral side.
Description
It performs the following functions:
Provides control and measurement of the following values:
phase currents of frequency 50 Hz with a nominal value
Iн = 5А in the range from 0,1 to 30 Iн of the outputs side;
phase currents with a frequency of 50 Hz with a nominal
value Iн = 5А in the range from 0,1 to 30 Iн of the neutral side;
three linear (phase) voltages with a rated voltage of 100V;
three phase shifts of the angles between currents and voltages;
zero sequence current - from 0.01 to 2A;
negative sequence current;
current in the supply circuits of an excitation transformer (ET) with a rated secondary current of 5A;
frequency of current in the network.
Relay protection functions:
Motor differencial protection two-stage in three-phase performance: the first stage - differential cut-off, the second stage - sensitive with braking;
overcurrent protection (OCP) three-stage in three-phase performance: the first and third stages - with an indefinite time delay, the second - with a definite time delay (to implement protection against symmetrical overload), uses currents on the output side, there is the possibility of accelerating the second stage;
protection against unbalanced conditions by 12;
ground fault protection for 3Io current, operates with or without a delay for cut-off or signal, not directional: the protection reacts to the residual current of the industrial frequency 3Io (analogue of the relay PTZ-51);
disconnection at start-up on the braked mechanism, implemented by the logic of OCP with a single time delay, it is possible to accelerate the action time through a discrete input;
tripping with disconnection from the device or in case of damage to the mechanism (rupture of the conveyor belt, etc.), realized by current shedding in at least one phase;
protection against asynchronous operation (from excitation loss), is realized by the combination of a stable disappearance of the current of a CT with the presence of a significant stator current (in one phase) or from a discrete signal from the contact of the field blanking device entering the discrete input;
individual undervoltage protection, is realized on the fact of reduction of one line voltage up to level Umin;
circuit-breaker failure protection (CBFP). CBFP is initiated from the selected OCP stages, Motor differencial protection, earth fault protection or external devices (via a binary input). CBFP has two stages in response time, is performed with current monitoring.
Automation functions:
circuit breaker can be switched on and off both from the device and via a discrete input (pulsed). If there is a command to cut off the circuit breaker, the on signal is blocked.
defined functions - number of defined functions - 16.
Discrete signal recorder:
100 recent events;
up to 50 entries in each accident;
fixation of maximum currents.
Analog signal recorder:
11 recent events;
duration of the pre-fault process - up to 5 s,
duration of the post-accident process - up to 20 s.
Number of freely programmable inputs, outputs, indicators:
discrete inputs - 16;
discrete relay outputs - 15;
LED indicators - 14.
Features:
numeric keypad;
four freely programmable buttons;
graphic indicator (in character mode - 8 lines);
possibility to set all the default settings;
input-output of all protections is provided;
work with an external computer is carried out through the USB port;
RS-485 interface is provided for network creation.
Overall and connecting dimensions and recommended marking
Overall and mounting dimensions MRZS-05D AIAR.466452.002
Simplified connection diagram
WisiNet2 Setup Utility
Software Wisinet2 for МРЗС-05Л, МРЗС-05Д, MRZS
This manual is written only for Updating the program WiziNet 2
software WisiNet_2_user manual
Contact Us