Analog input device PAV - 3
ATS devices in networks 0.4 - 150 kV
Busbar coupler protection devices
Cabinets of relay protection and automation of series
Central annunciator units
Device discrete input/output DDIO
Device is intended for the reflection of the state of interconnect equipment
Device of arc protection of the PDZ
Devices for regulating the voltage of the transformer under load
Devices for the protection of the section
Discrete input devices DDI
Discrete output devices DDO
Disposing device DSH
Electric motor protection devices
Fiber Optic DVO Sensor
Hardware and software system promHMI
Input and output protection devices based on OCP
Input and output protection devices with directional earth fault protection
Input protection devices, busbar coupleres, outgoing lines and standby transformer protection
Input, output and standby protection devices for transformers
Line protection devices
Motor differencial protection devices of transformer
Power supply IP-02-MRZS
Voltage monitoring devices and voltage protection kit
Block power supply ИП-02-МРЗС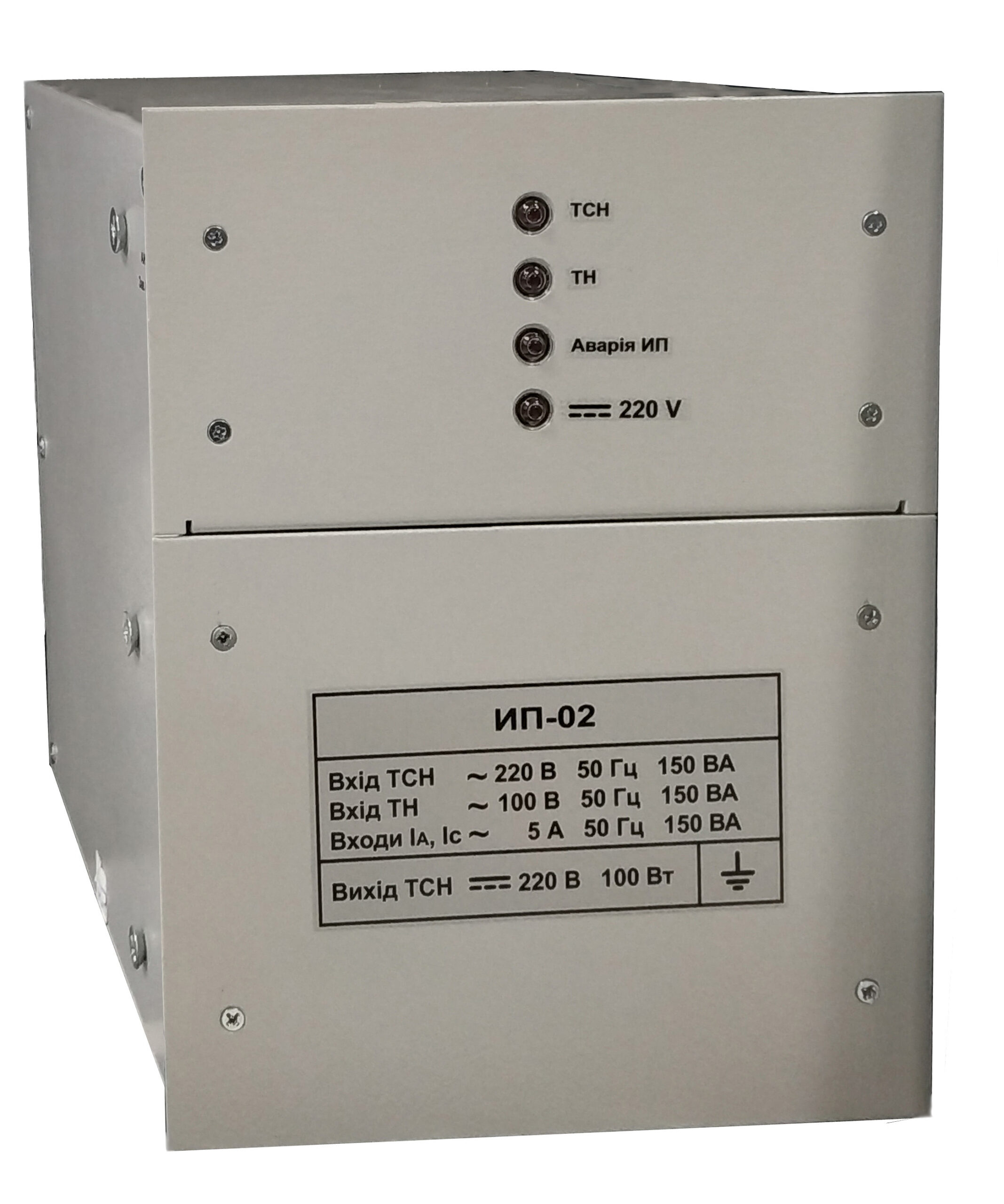 Intended for powering microprocessor relay protection devices and their input discrete circuits as part of cabinets (cells) of automation, control and protection at electrical substations with variable operating current.
Description
Sources of energy for ИП-02-MРЗС are:
AC voltage 220 V own needs;
linear alternating voltage 100 V with voltage measuring transformer;
alternating currents of measuring current transformers of two phases.
The output voltage of ИП-02-МРЗС is 220 V ± 22 V.
Output power - 100W with powered by circuits voltage or from current circuits over 5 A.
The range of permissible input voltages and currents at which the technical characteristics of ИП-02-MРЗС are provided:
voltage own needs - from 165 to 265;
voltage from a voltage measuring transformer - from 80 to 150 V;
current from a measuring current transformer - from 6.0 to 150 A.
The power consumed by ИП-02-МРЗС in the selection power take-off is no more than 120 W (150 VA).
In the initial mode, ИП-02-МРЗС selects power from 220 V circuits. In the event of a voltage drop during an accident below the permissible limit, ИП-02-МРЗС switches to power take-off from a voltage measuring transformer. If both the first and second voltage are less permissible, the source switches to power take-off from measuring current transformers for power from short-circuit currents. There is a light indication of the presence of input and output voltage, light and relay alarm when the output voltage deviates below 200 V and above 250 V, relay signaling the absence of input voltages. ИП-02-МРЗС protected against output short circuits.
Simplified connection diagram
Certifications
Certificate ИП-МРЗС
DECLARATION_ИП-01-02-МРЗС
Contact Us