Analog input device PAV - 3
ATS devices in networks 0.4 - 150 kV
Busbar coupler protection devices
Cabinets of relay protection and automation of series
Central annunciator units
Device discrete input/output DDIO
Device is intended for the reflection of the state of interconnect equipment
Device of arc protection of the PDZ
Devices for regulating the voltage of the transformer under load
Devices for the protection of the section
Discrete input devices DDI
Discrete output devices DDO
Disposing device DSH
Electric motor protection devices
Fiber Optic DVO Sensor
Hardware and software system promHMI
Input and output protection devices based on OCP
Input and output protection devices with directional earth fault protection
Input protection devices, busbar coupleres, outgoing lines and standby transformer protection
Input, output and standby protection devices for transformers
Line protection devices
Motor differencial protection devices of transformer
Power supply IP-02-MRZS
Voltage monitoring devices and voltage protection kit
Cabinets of relay protection and automation of series ШУАЗ-10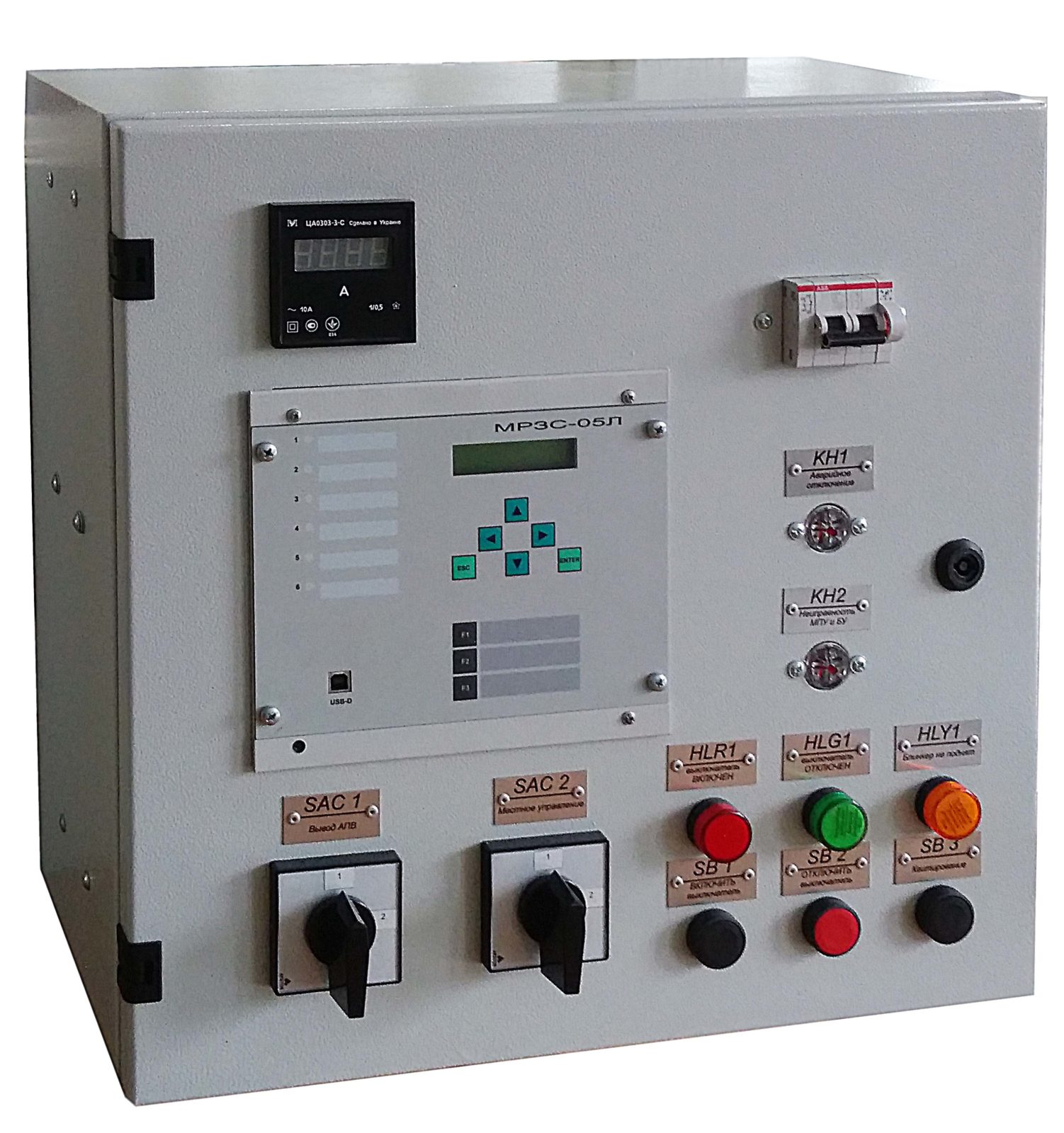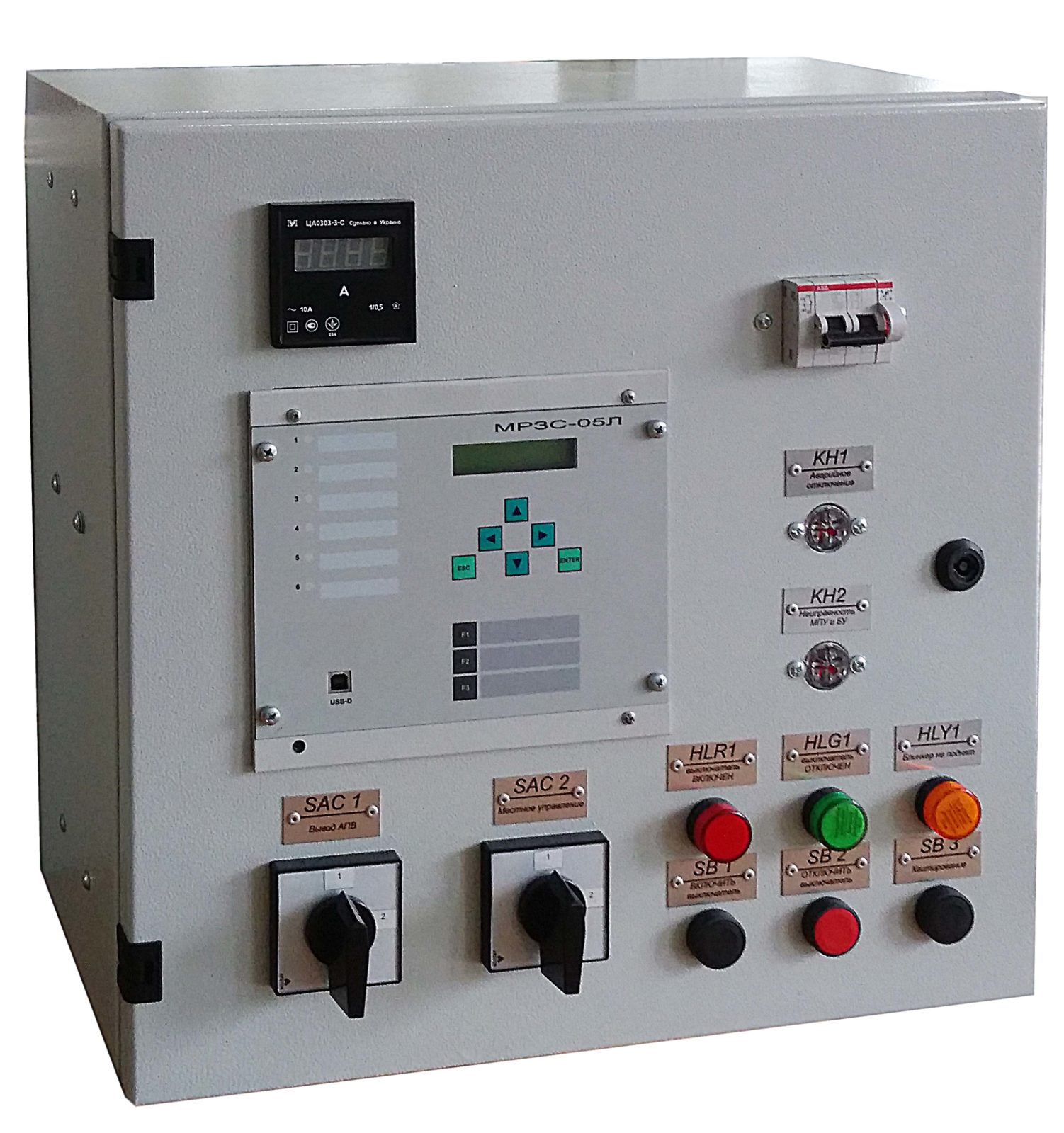 Application
A series of cabinets ШУАЗ (control cabinet for automation and protection): ШУАЗ-10, are designed for the reconstruction of the relay protection and automation compartment of complete switchgears (primarily single-end service assembled chambers and switchgears) with existing electromechanical and electronic relays, obsolete devices. The installation is carried out in the operating cells, PSP cabinets, on the PSP panels on the outgoing lines, sectional switches, input switches with voltage 6-35 kV.
Description
Main functions
structure and the list of functions of protection, automation, monitoring and telecontrol, as well as service functions depends on the choice of the version of the microprocessor device MРЗС-05Л and the wishes of the customer;
digital, light (sound) indication (signaling) of controlled parameters, mnemonic diagram of switchgear;
heating, cooling, lighting, electricity metering.
Structure
ШУАЗ is a complete block - metal structure with relay protection and automation devices mounted on it, ammeter (voltmeter), buttons and control keys, light and indicating signaling devices, control unit and/or switch power supply unit (if necessary), circuit breakers, alarm circuits and automatic dispatching control, accounting circuits (electricity meter). Connection of external circuits is carried out through the assembled row of clamps.
Typical versions ШУАЗ
ШУАЗ-10-Л-001 and ШУАЗ-10-Л-010 - cabinet for current protection, automation and control line, input, section 10 (6) kV;
ШУАЗ-10-Л-121 or ШУАЗ-10-Л-321 - cabinet for protection of current and voltage, automation and control of the outgoing line 35-10 (6) kV;
ШУАЗЩ-10-Л-013 and ШУАЗ-10-Л-033 - current protection cabinet of the feeder cable line 10 (6) kV (with directional earth fault);
ШУАЗ-35-Т-001 and ШУАЗ-35-Т-010 - transformer backup protection cabinet;
ШУАЗ-10-ТН-121 or ШУАЗ-10-ТН-321, ШУАЗ-35-ТН-122 or ШУАЗ-35-ТН-322 - cabinet of protection and automation for voltage, control and signaling of ТН 35 kV, 10 (6) kV;
ШУАЗ-10-В-121 or ШУАЗ-10-В-321, ШУАЗ-35-В-121 or ШУАЗ-35-В-321 – cabinet for protection of current and voltage, automation and input control 35-10 (6) kV;
ШУАЗ-10-С-122 or ШУАЗ-10-В-322, ШУАЗ-35-С-122 or ШУАЗ-35-В-322 - current and voltage protection, automation and control of section 35-10 (6) kV;
ШУАЗ-10-Д-002- protection cabinet for voltage and current, automation and control of engine 10 (6) kV;
ШУАЗ differ in design type:
Protruding version (for example, for cells with external mounting of KSO type)
Recessed version (for example, for cells with internal mounting of KRU type)
Opened version (for example, for RPA panels)
Adaptation for various types of switches of a wide range of domestic and foreign manufacturers
vacuum;
gas-insulated;
oil (low-oil)
Adaptation to various types of previously manufactured and modern complete devices
KRU series, KRUN series, KSO series, YAKNO series, K series, KN series
Advantages of an integrated approach to RPA replacing:
ШУАЗ will allow quickly and efficiently perform works on the "retrofit" of RPA and related equipment.
Simplicity and convenience are accompanied by minimal costs and invariably (guaranteed) quality result.
The supply of relay equipment from one supplier simplifies the delivery system and relieves the burden on the buyer's logistics;
Optimum dimensions are made in accordance with the type of complete switchgear of service personnel;
Individual approach tailored to the specifics of the customer;
High quality is determined by high-quality components and experience in performing special operations;
The commissioning speed is ensured by a preliminary design and a holistic study;
Low cost and flexible system of payment from the manufacturer;
Technical support for the entire service life; Warranty and after-sales service;
The final version of the ШУАЗ configuration is determined when placing an order. The order is executed according to the customer documentation (questionnaire and order card). The final schemes and specifications are agreed with the customer.
Contact Us