Analog input device PAV - 3
ATS devices in networks 0.4 - 150 kV
Busbar coupler protection devices
Cabinets of relay protection and automation of series
Central annunciator units
Device of arc protection of the PDZ
Discrete input devices DDI
Discrete output devices DDO
Disposing device DSH
Electric motor protection devices
Fiber Optic DVO Sensor
Hardware and software system promSCADA
Input and output protection devices based on OCP
Input and output protection devices with directional earth fault protection
Input protection devices, busbar coupleres, outgoing lines and standby transformer protection
Input, output and standby protection devices for transformers
Motor differencial protection devices of transformer
Power supply IP-01-MRZS
Remote protection devices
Section protection devices
Voltage monitoring devices and voltage protection kit
Voltage regulating devices for under load transformer
MRZS-U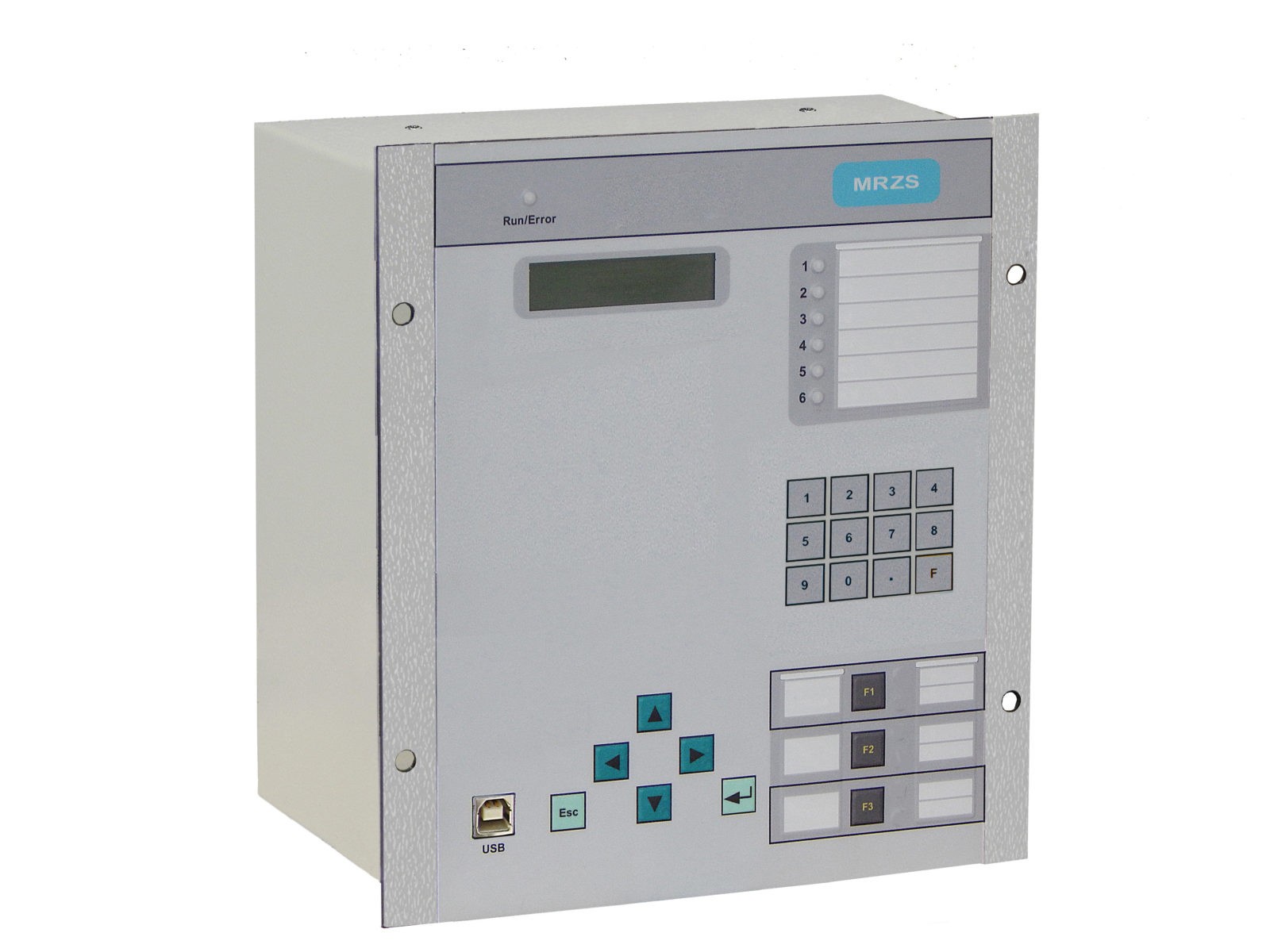 It is used as a voltage protection device, signaling and monitoring of voltage circuits of 6/10/35 kV connections for the organization of automatic mode reserve (AMS) and normal mode recovery (NMR) with AMS. Used as a device for monitoring the voltage circuits on the busbar section, initiating the OCP start-up on voltage. Devices can be placed: in the relay compartments of single-end service assembled chambers, switchgears and control gears, outdoor switchgears (YAKNO), panels, in control cabinets.
Description
Performs the following functions
Control and measurement
­ three phase or line voltages (main channel) from TH1 installed on the busbars;
two-line voltages of auxiliary channel from ТСН or one line voltage from TH2, set at the input;
zero phase-sequence voltage.
Relay protection functions:
two-stage undervoltage protection ЗНmin operates with a time delay for tripping or by signal;
two-stage overvoltage protection ЗНmax operates with a time delay for tripping or by signal;
maximum voltage protection of auxiliary channel operates with a time delay for tripping or by signal;
total under-voltage protection of primary and secondary channels;
undirected earth fault protection by 3Uo;
Automation functions:
ACB start up;
Startup of the normal mode restoration (NMR) scheme at ACB
Monitoring, registration and alarm functions:
­
monitoring of serviceability of voltage circuits of main and auxiliary channels;
emergency registrar of oscillograms with recording of discrete signals:

parameterizable duration of pre-emergency and emergency recording;
­ resolution capability of the recorder by analog signals - 1,25 ms;
total duration записи - 50 sec.

discrete signal recorder:

48 recent events;
up to 43 records in each alarm with a fixed value;

­ maximal voltages (voltages of phases and voltage 3Uo);
­ minimal voltages (voltages of phases and voltage 3Uo) at the moment of ЗНmin start-up.
Enhanced logic functions:
­ number of defined functions - 8;
­ number of defined triggers - 3;
status of triggers is stored in non-volatile memory.
Enhanced logic allows to complement existing functions and create new ones.
Service functions:
­freely assignable inputs;
freely assignable outputs;
freely assignable LEDs;
multilingual menu - 3 languages supported;
three freely programmable buttons;
work with an external computer is carried out through the USB port.
Interfaces and communication protocols:
­ Interface RS 485 - Communication protocol Modbus RTU;
­ Interface USB.
Hardware configuration parameters
B

Current sensors
-

Voltage sensors
7U
Voltage output for discrete inputs power supply (DIР)
-
Number of discrete inputs
8
Number of discrete outputs:
with NO contact element
with change-over contact
power
9 (7)
4
4
1
Number of LEDs, of them
programmable
7
6
Function keys, of them
with key mode

3
-
Communication interfaces RS485 USB
1
1


Overall and connecting dimensions and recommended marking
Overall and mounting dimensions MRZS-U
Overall-mrzs_x2xxx-str1
Overall-mrzs_x2xxx-str2
Overall-mrzs_x3xxx-str1
Overall-mrzs_x3xxx-str2
сonnection diagram-MRZS-U-back view
Simplified connection diagram
WisiNet2 Setup Utility
Software Wisinet2 for МРЗС-05Л, МРЗС-05Д, MRZS
This manual is written only for Updating the program WiziNet 2
software WisiNet_2_user manual
Contact Us